Yeeee----Hawwwwww for horse doin's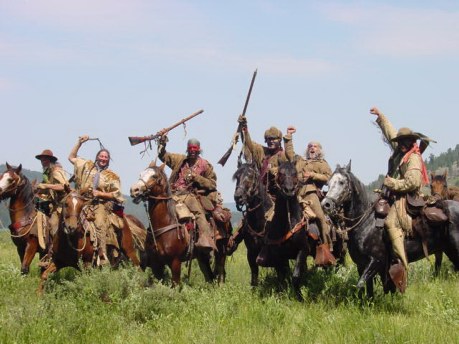 A pack horse helps to cut down on the load your ridin horse has to carry. Here we are showing some of the boys how to tie the diamond hitch to secure the load.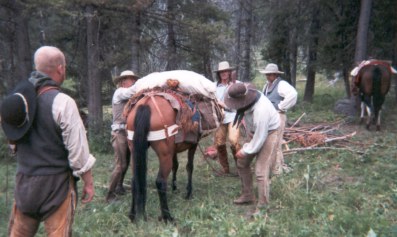 Chas and Mary Kay looking for a way through the beaver dams
Stargazer riding through a Camas Field
Blue and Gabe comin out of the high country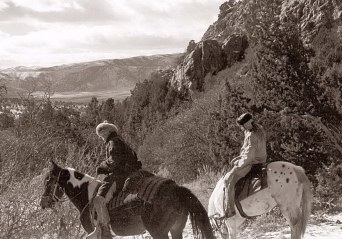 Stargazer and me takin in the view from off the ridge on a four day ride. Note no bed rolls behind the saddles we have learn to put it all under the saddle. you will see from some of our earlier rides we did not all ways do this. It makes it easier to get on and off the horse and it is better for the hores not to have a big bed roll on it's kidneys.
water crossin at the head waters of the Gros Venture River
Stargazer with the Wind River Mountains in the back ground.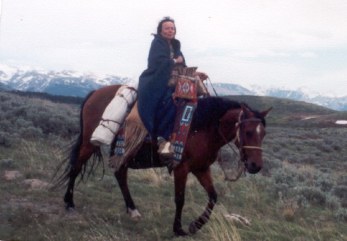 Gabe in the Book Cliff's Country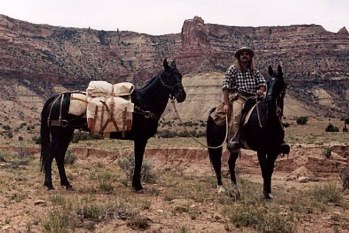 Justin comin out of the timber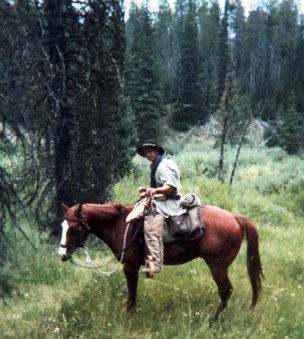 Yaro on the Henry's Fork of the Snake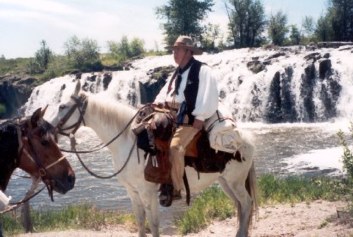 Mike Powell with the Wind's in the back ground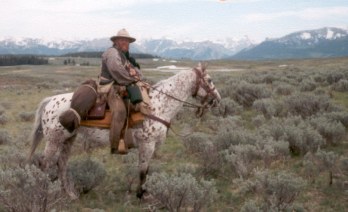 Rick Palmer and his pony ready for the trail.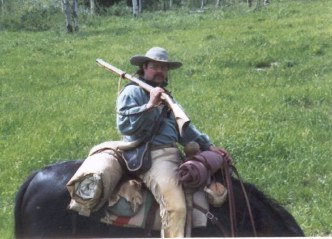 Saddled up and ready to ride Wynn, Justin, Allen, Ken and Crazy
Lookin down in to Pierre's Hole
Travelin the high country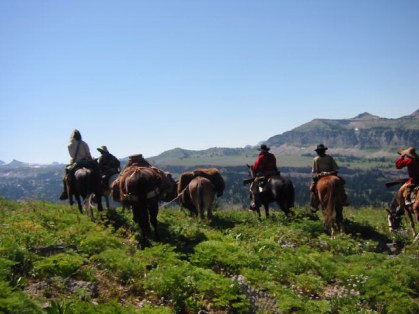 Yaro, Jill and Mike waterin the ponies.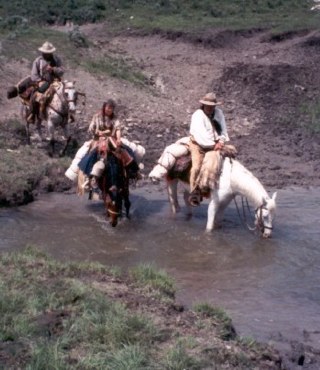 Headin for Fort Hall. Brad, Lewie, Bill and Rick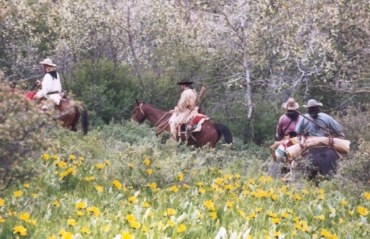 Varmit checking for beaver sign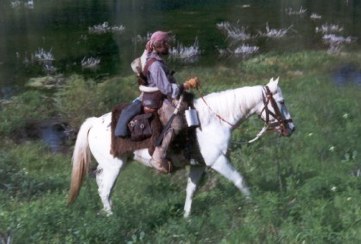 Russ watchin his back trail
Headin for The Tetons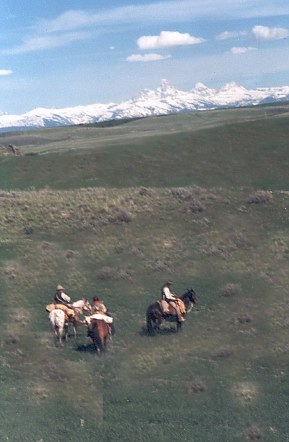 Rick above the timber line in the Tetons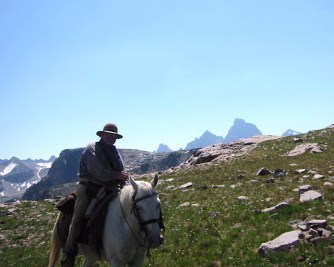 Nooning up on top of the world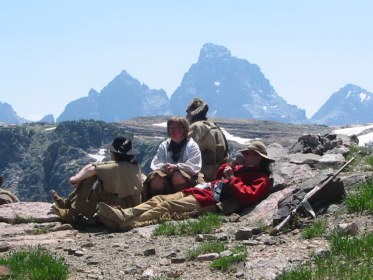 Jill, Allen and Crazy at the 1810 Camp Henry Site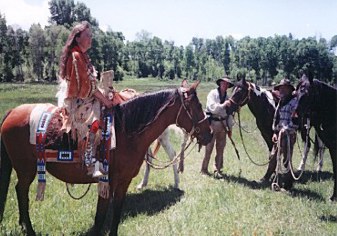 Bob and his pack string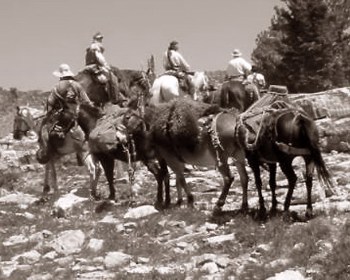 Lewie, Crazy and Varmit's best side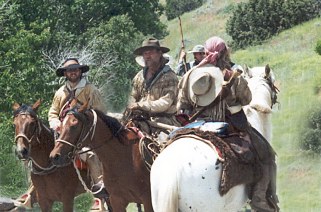 Stargazer headin for Rendezvous
which ways camp?
Tanglefoot leads out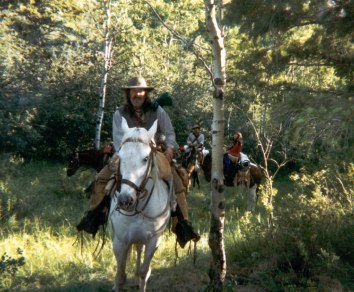 Wynn and his girl friend on top of the world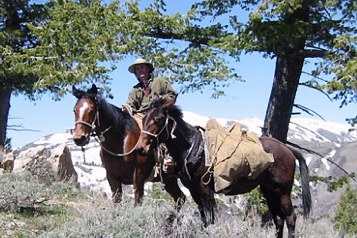 Marsh Creek, Jill, Allen and Mike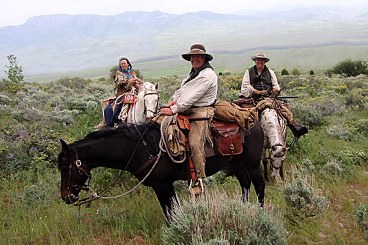 15 riders and 19 head of stock riding the Tetons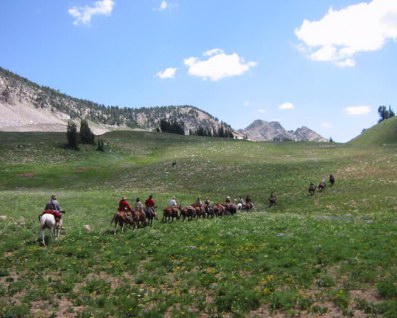 Jean & her pack horse and Creed in the back ground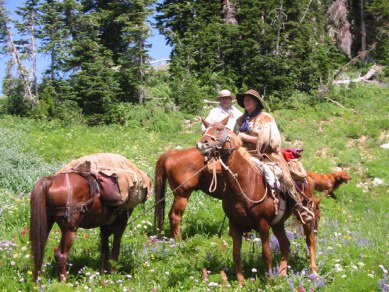 Horses picketed on good grass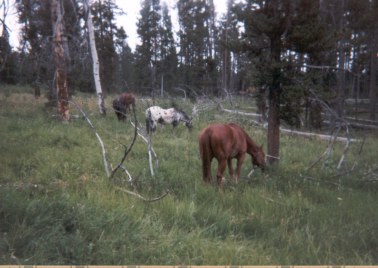 Time for us to eat, nothin finer after a day on the trail!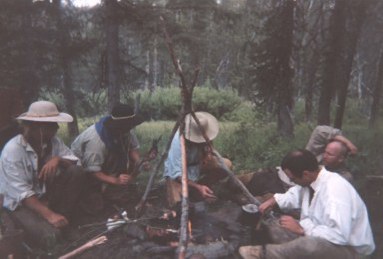 Then it's off to bed a blanket wrapped in oil cloth with your horse's sweat blanket & epishamore for a pad to sleep on & your saddle for a pillow. Maybe a rope tied around the bottom to keep ya from kicking out. The oil cloth that can be used for a rain slicker & a light set of balanced saddle bags and maybe my coat is all that goes behind my saddle any more.