March 5, 6, and 7, 2004 Some of The Women of the Fur Trade and some members of American Mountain Men held a winter camp at the base of the Grand Teton in Pierre's Hole. There were fourteen hardy souls that made this camp six women and eight men.
Here are some pictures form this camp with a bit of a report on the camp.
The snow was coming down rather hard while we were loading up the toboggans and getting everyone ready to hit the trail for camp.
Jill And Sandra snow shoed up, toboggans load and getting ready to head out.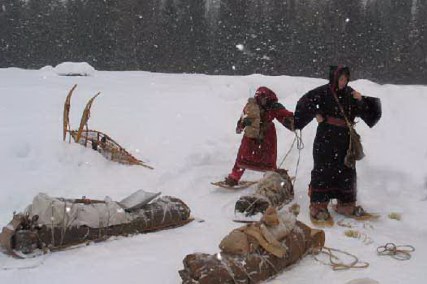 Chris & Gab making the final touches to their load. Their toboggan was loaded heavy do to all there camp being brought in on only the one toboggan. Do to Chris being in the family way and the Doc said no pulling of toboggans for her, so I think she helped push it once in a while instead pulling one.
Here they are all packed and ready to go.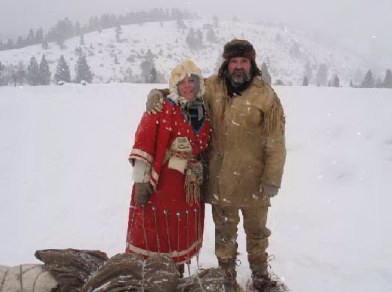 Getting a feel for the snow shoes. For some of our crew this was their first time out on snow shoes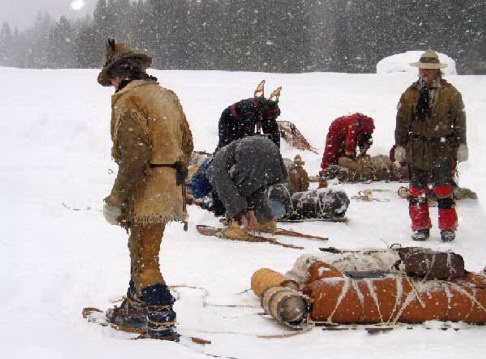 Rick & Sandy Hunt ready to hit the trail
Alice who came from sunny California by her self to take part in this camp with her bed roll and gear loaded up and ready to go. Alice is an instructor for rabbit stick and member of WFT. she is no stranger to primitive doings but this was her first deep winter camp done primitive .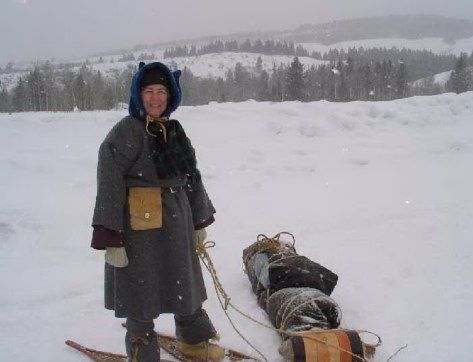 Starting out on the trail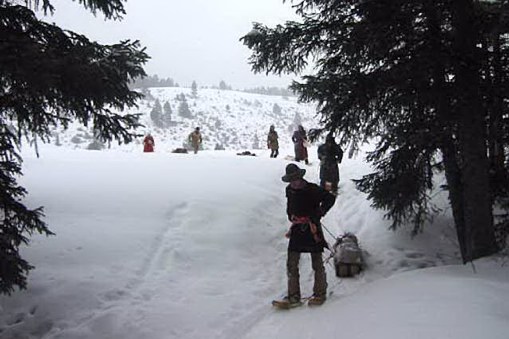 The Bridge over Teton Creek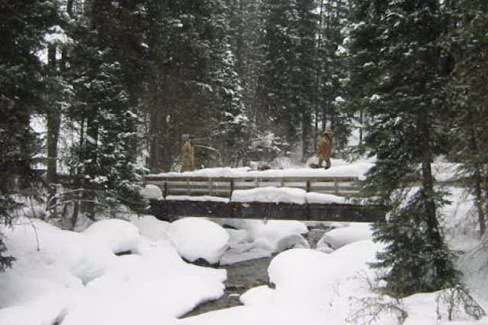 Note how deep the snow is on the Bridge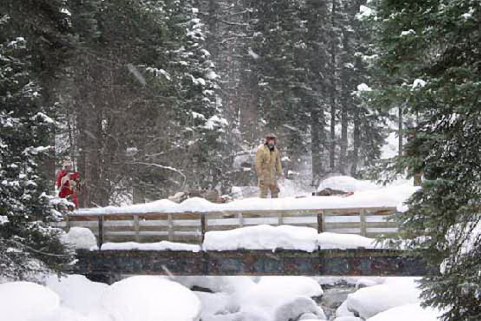 Looking up Teton Creek from the Bridge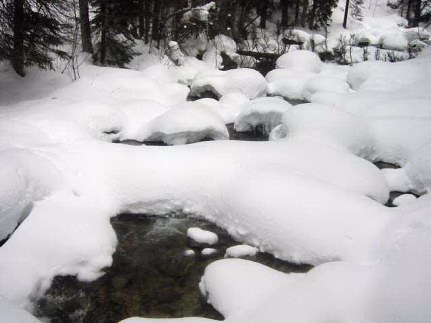 Looking down the Creek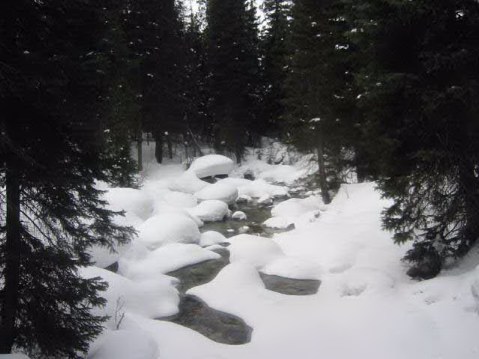 Step, Step pull, Alice getting the toboggan up the steep part of the hill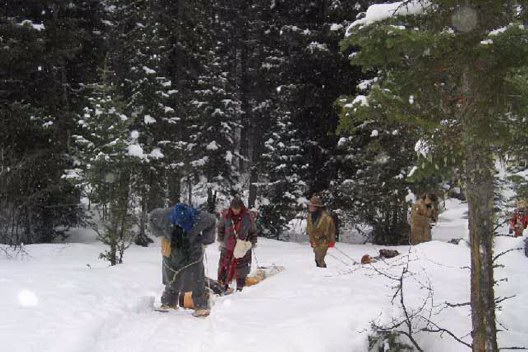 Alice, Sandy , Rick, Gab and Chris on the trail in.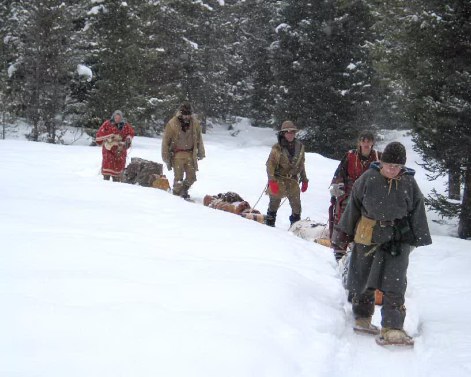 The crew coming out of the trees and the snow is starting to let up some.
Crazy Braking Trail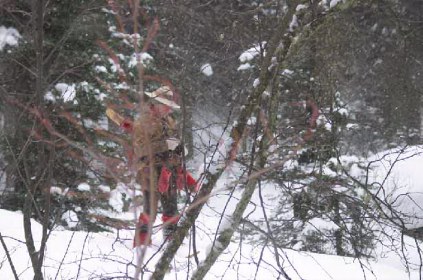 The Co Booshways of the Camp Jill for the WFT and Crazy Cyot for the AMM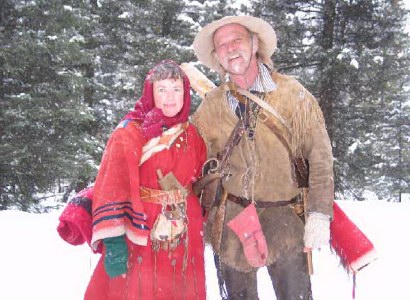 After a little over a mile in Tom said this looks like a good camp spot.
So camp was made and a good spot it was plenty of shelter from the wind.
Sandra & Tom came all the way from Florida to do this camp.
Here we have all three of our warm weather friends in one picture.
Sandra, Tom and Alice they are hardy souls that by coming helped to make this camp all the more special for the rest of us. Our Thanks to them for coming!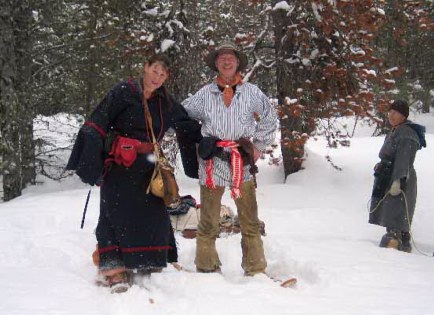 First line of order get camps set up and fire wood gathered.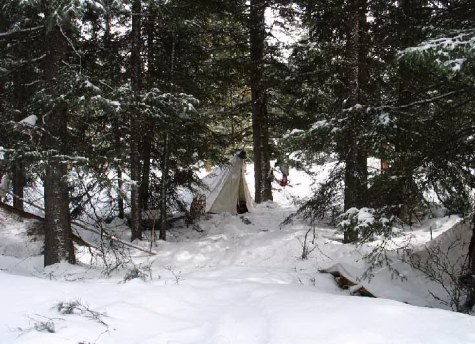 Just as we start setting up camp Susie & Richard Ashburn come pulling in to camp. After all of us braking trail for them they found the trail packed enough that they did not need their snow shoes to make it in to camp.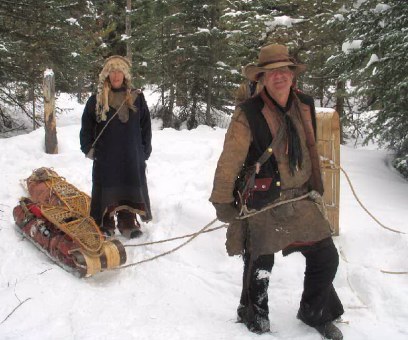 It was just about dark by the time we got the camps set up, the wood gathered and our first fire going.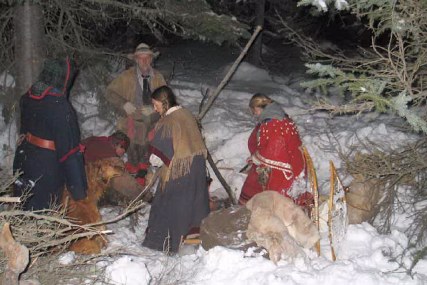 With this many women in camp the cooking and food was great then with a jug or two passed around, after all this, let it snow!
Life is good!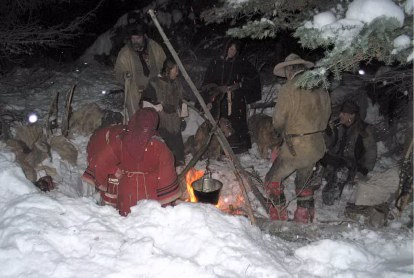 Richard says." who says it's hard to stay warm at winter doin's"
Just after dark Wynn made it in to camp packing his bedroll on his back with no snow shoes.
Were the men in camp glad to see him until then we were out numbered!
This picture was taken the next day
About an hour after Wynn came in Mike and Tony Powell made it in.
Tony is a junior member of the AMM and a fine one he his.
Here they are loaded up and ready to head out the next after noon.
That night the wind picked up and it started to snow hard. We found out later that all the roads around us had been closed do to white out conditions and drifting snow, But where we were camped in the shelter of the trees it did not seem all that bad.
We woke to about three inches of snow on our shelters that were set up under the trees with about four to five inches of new snow out in the open.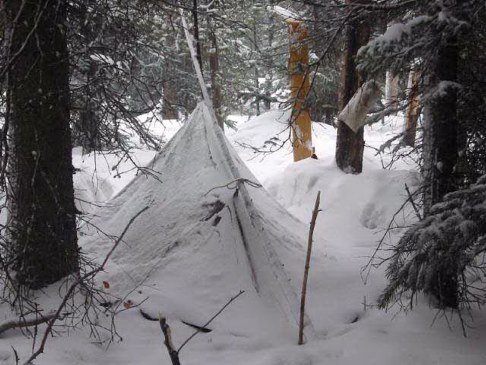 Alice in the morning after the storm.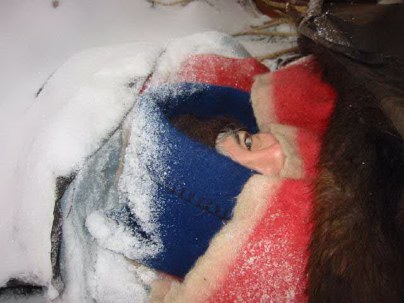 Not every one put up shelters that night Wynn laid out his bed roll under the trees by the fire with and oil cloth over him.
Richard & Susie had dug down under a tree and laid out their bed roll with a tarp over them. Here's a picture of their camp or should I say bed.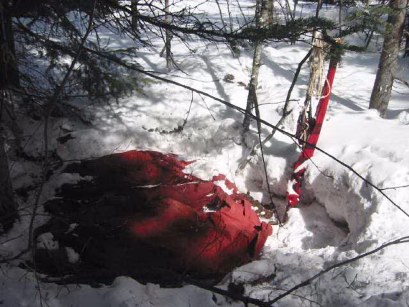 Here are some more picture of some of our camps. Using two Toboggans and doubling up you can have a quit a comfortable camp set if you want.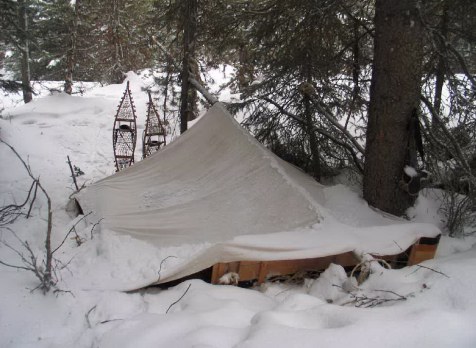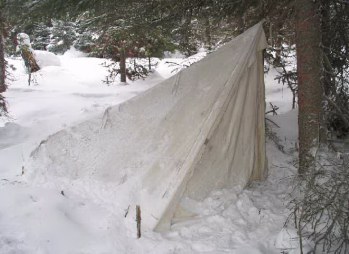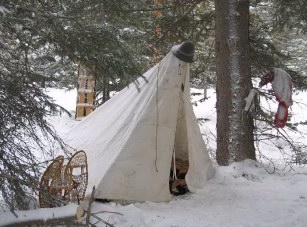 We spent the day eating, exploring, getting wood and just enjoying the good company.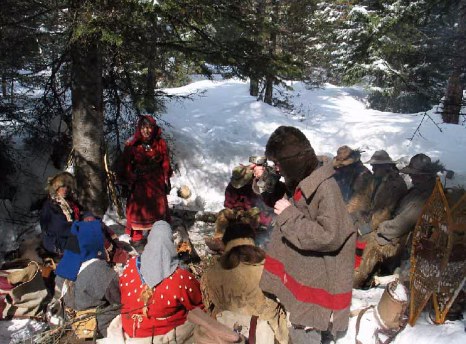 The women of the WFT got together for this picture.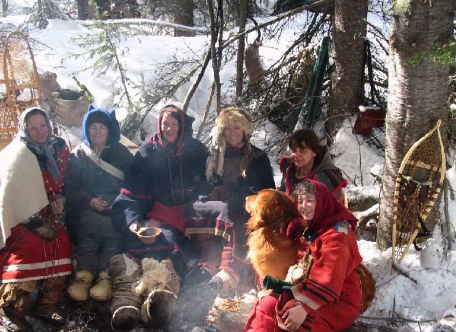 Saturday after noon we bid Richard and Susie a happy trail out, along with Mike and Tony who also had to head out to the settlements.
Saturday night the stars came out and the moon was full which meant for a colder night, it got down in to the single digits this night but with a good fire and food cookin, life was good. With good bed rolls we all for the most part slept warm and well that night.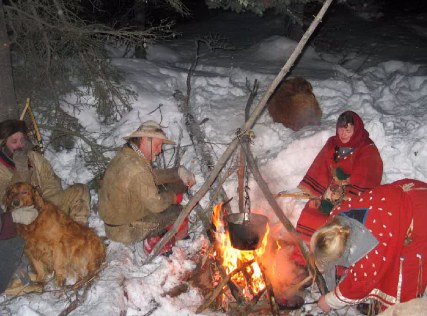 Morning Coffee takes a while when your melting snow for water.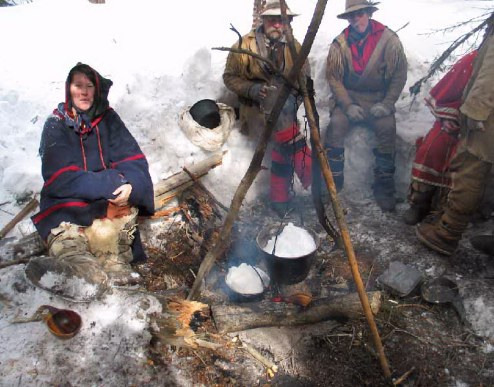 What do ya do while waiting on coffee? Work on your sign language.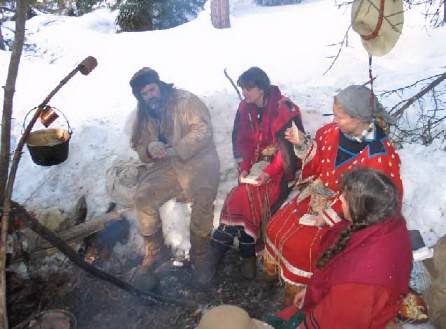 The time seem to pass to quickly when your in camp and havin fun,
to soon it is time to pack up and head out.
Chris is all packed and ready to go.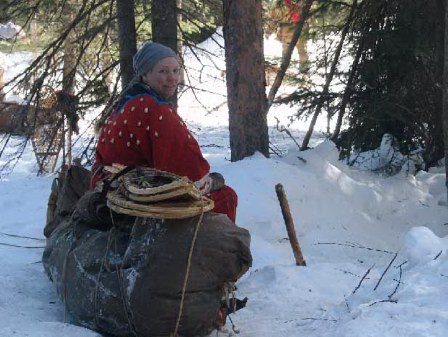 The WFT Crew ready to hit the trail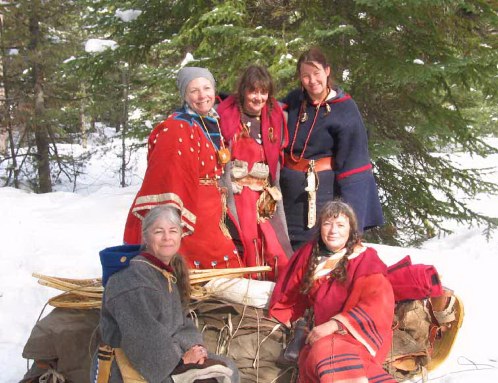 And the Men are ready to do the same.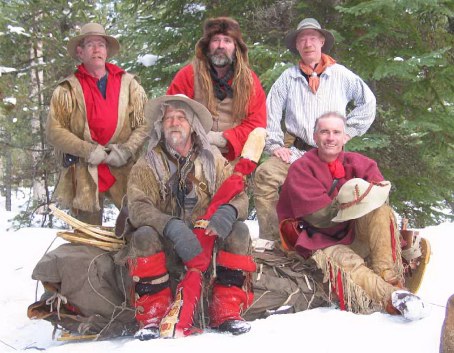 Sandra pulling out with her load of burdens.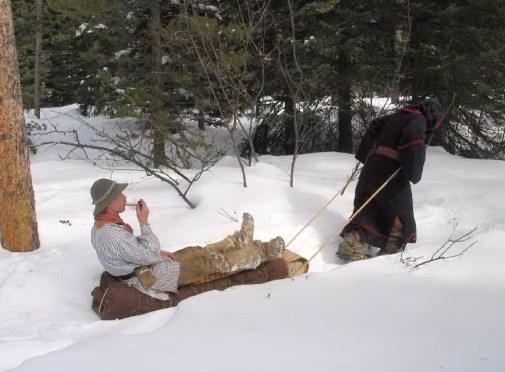 See ya on down the trail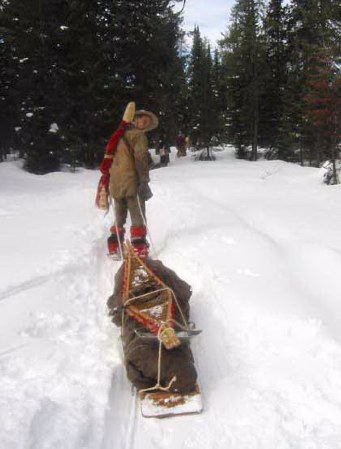 Crazy Cyot